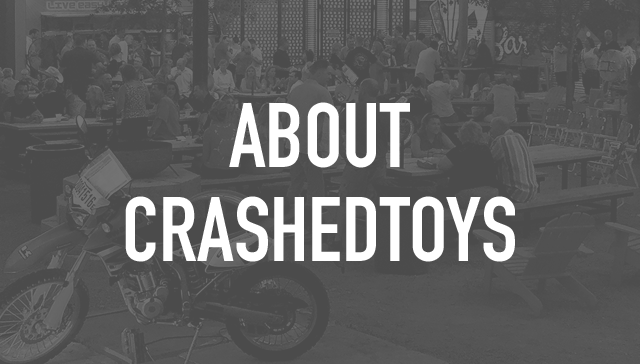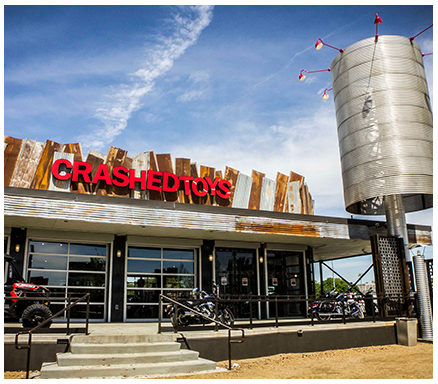 A UNIQUE VENUE LIKE NO OTHER
CrashedToys is Dallas' hottest one-of-a-kind event venue. The 30,000 sqft indoor space and 6,500 sqft beer & food truck garden feature large built-in bars, 41 video screens, hand-painted murals, a state-of-the-art audio/video system and incredible industrial fixtures and furnishings. An online powersports auction house during the day and unique and edgy special event space in the evening, CrashedToys will provide you with the perfect opportunity to experience Dallas' local nightlife and celebrate with your peers! CrashedToys provides a setting with endless possibilities for group events of all sizes, including corporate groups, meetings, charity galas, celebrations and social events. Get ready for an absolutely unforgettable experience!
Unique Event Venue in Dallas : THE CAGE, THE CLUBHOUSE, THE BONEYARD.
CATERING & BAR SERVICES: G TEXAS CUSTOM CATERING
FREQUENTLY ASKED QUESTIONS
What are the areas of CrashedToys available for private events?
There are three areas with a total of 19,000 sqft. The ClubHouse (7,500 sqft), The Cage (6,500 sqft) and The BoneYard (6,500 sqft).
What is CrashedToys?
CrashedToys is a special event venue and a powersports auction house. Check out CrashedToys.com.
What about catering and bar services?
We have partnered with Dallas' premier event catering and bar service, G Texas Catering. From delicious appetizers, chef-attended custom creations, specialty cocktails to full bar service, G Texas will create the perfect pairings for practically any budget and any style event. When is CT available for private events? Monday through Saturday after 5pm Sunday available all day. Check out www.GTexasCatering.com
When is CT available for private events?
Monday through Saturday after 5 pm and all day on Sundays!
Are there any public events at CrashedToys?
Yes! The CrashedToys Dallas facility is open to the public Monday through Friday, 8am to 5pm and Saturday, 9am to 5pm. There are live-experience public online auctions held on the 1st and 3rd Wednesday's of each month and once a quarter is an open-to-public BoneYard party Saturday. Check out The BoneYard at CrashedToys Facebook page for more details!
What types of entertainment are available for events?
When we chat, we will find out as much information about your vision and budget as possible to determine the best entertainment options for your event. Here are a few ideas to get your creative juices flowing: bands of any genre, DJ, mechanical bull, photo bus, graffiti wall, cigar roller, team building, arcade games, food trucks, live custom graffiti artist, slow-mo video lounge, casino games, giant games, LED games, and more!